The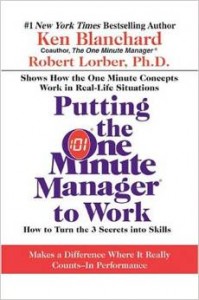 One Minute Manager, published in 1982, took the world by storm. More than 13 million copies have been sold in this country and it has been translated into more than 25 languages, making it one of the most influential books about business management ever written. The second book in this record-breaking series, Putting the One Minute Manager to Work, turns the three secrets of One Minute Management into day-to-day skills and shows how they work in real-life situations. By going straight to boardrooms and assembly lines for their examples, the authors put the One Minute concepts into working systems that directly affect a company's bottom line. Here is the next step in the revolutionary, simple, and uniquely effective system that is changing how the world runs business.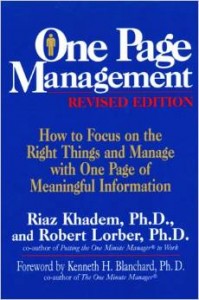 One Page management helps you implement the principles in The One Minute Manager. Key to success is access to information. But busy managers are drowning in a sea of useless data. One Page Management Teaches a simple screening system that reduces the glut of memos, printouts, and files tothree one-page reports, giving managers a complete view of their organization. Achievers become visible, problems are short-circuited, and managers gain control over their own performance. As in theOne Minute Manager, the system unfolds in a simple parable: an executive turns around a floundering company with the ingenious help of "the Infoman."
Published in hardcover in 1986 and in paperback in 1989, One Page Management is available nationwide and has been translated into twelve languages. Updated to address today's business concerns, it works for any business – from large corporation to start-up.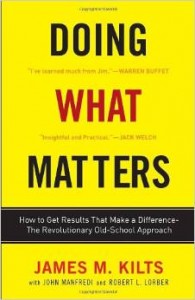 When Warren Buffett was asked why the Gillette board of directors chose Jim Kilts to be CEO, he said, "Jim made as much sense in terms of talking about business as anybody I've ever talked to. If you listen to Jim analyze a business situation you get absolutely no baloney. And, frankly, finding someone like that is a rarity."
There is only one CEO in recent times who has faced—and succeeded at—the extraordinary challenges of leading three major companies—Gillette, Nabisco, and Kraft—into prosperous futures by doing what matters on the fundamentals.
That CEO is Jim Kilts. In this vivid first-person account he reveals his system for success that is both cutting-edge and back-to-basics. Doing What Matters—the action plan for identifying and tackling what's important and ignoring the rest—is the key to winning in a warp-speed world where the need for revolutionary speed and decisiveness increases by the day.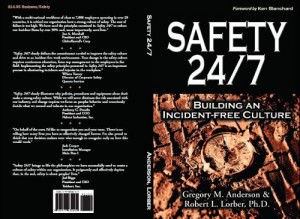 In the United States more than 5,000 workplace fatalities and 1,500,000 lost time injuries occur each year. What's more, according to the United Nations' International Labour Organization, over two million lives are lost each year to job-related accidents and illnesses, plus more than 268 million lost time accidents occur globally. Behavior based safety is crucial to the success of every company no matter how large or small.
Are you recognizing the need to reduce incidents and injuries within your organization?
Are you having trouble implementing behavior based safety programs in your organization?
Are the cost of claims and lost productivity having significant impact on the bottom-line?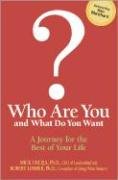 Who Are You and What Do You Want? is the result of Ukleja and Lorber's search to find the common thread in people who are noticeably happy and successful. As leadership coaches, they have observed that once someone knows what their passions and values are, everything else falls into place. As a result, they developed an approach called 4-Dimensional Thinking, which they have been using for the past twenty-five years with life-changing results. Each dimension offers a series of thought-provoking questions to help guide the reader to their own conclusions. By the end of the process the reader will experience a dramatic transformation: their life will be renewed and their relationships at home and work will be vastly improved.